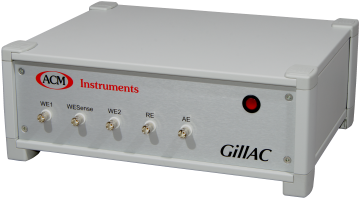 ACM's flagship instrument offers a Potentiostat, Galvanostat and Zero Resistance Ammeter with integrated Frequency Response Analyser and Sweep Generator in one.
Electrochemical tests such as AC Impedance (EIS) and standard DC tests including LPR and current and voltage noise are included, making this instrument extremely versatile and great value for money.
To better meet your specific needs why not customise your instrument with our options, so versatile are our instruments that many options are even available to be fitted retrospectively, making our instruments the right choice now and for the long term.
For more information including specification view the datasheets available below or contact us today.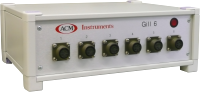 Multiple channel options available in any configuration from 2 to 12 channels.
Individual Gill AC's can be linked with software to provide a parallel instrument with extra features, such as high speed sweeps or weld testing.
Also available with higher current output up to 6 Amp in same size case. Higher current (over 6 Amp) output options are available too.
Also available in a smaller case (Gill AC style) with up to 6 channels.
Features
600 mA output (Standard)
Potentiostat, Galvanostat, Sweep Generator and integrated FRA
Options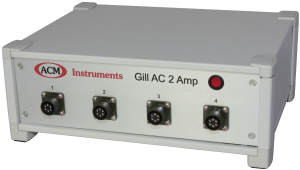 Gill AC - 2 Amp with 4 channels
Up to 2 Amp in same style enclosure
Higher current output available in larger enclosure
1 - 6 sequential channels (or more with larger enclosure)
Simultaneous Channels
Weld Test option
Femto Amp
Fast / high speed sweeps
100 kHz frequency response
Voltage / temperature inputs
Rack mountable
Critical Pitting Temperature
[Gill AC Datasheet] [Software overview]
---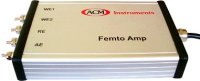 Femto Amp
Our new instrument for low current experiments, ideal for tests on paints & coatings and micro-electrochemistry. Femto Amp is the latest version of instrumentation that was previously known as 'Paint Buffer'. Usually used with a Faraday cage to eliminate any noise pick up. See Femto Cage for more details.
---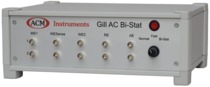 A versatile bi-potentiostat and dual Gill AC system. Click here for more information
---
A Gill AC with four additional working electrodes for testing multi-metal systems such as welds and central heating systems. Click here for more information
---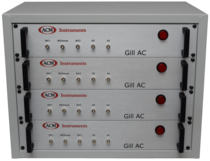 Gill AC - Rack Mountable Unit
When more than two simultaneous channels are required we can supply rack mountable Gill AC units which combine to make extremely flexible instruments.
Use it as a rack of full individual Gill AC potentiostats.
Use it as a high-spec weld tester, simultaneously measuring all weld components.
Add a high speed sweep option which applies to all channels.
Add further Gill AC instruments at a later date.
Up to 16 channels can be controlled by one PC.
View Bi-Stat and Parallel Systems for more information.
---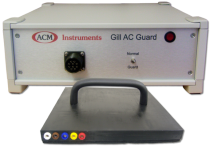 Guard Ring
ACM Instruments are one of the pioneers of Guard Ring technology. Used to measure corrosion of steel in concrete, this instrument can be supplied as a lab device, as shown here, or as a field instrument in a rugged case.
Guard Ring is a complete kit that enables any Field Machine, Gill AC or Gill 8/12 to perform galvanostatic pulses on concrete surfaces using the Guard Ring for precise location of re-bar areas.
The associated Guard Ring probe is also included which simply connects to the front panel via the supplied cables.

A Guard Ring enabled instrument can operate in both normal and Guard Ring modes.
---
Bubble Test and Bubble Test using Localised Corrosion Monitoring (LCM™) techniques are optional on the Gill AC. For more details click here.
---
100 kHz Frequency Response
A higher specification option to our Gill AC.
---
High Power
A High power version of the Gill AC, ideal for battery and fuel cell work. See our Battery Engine for more information.
---
Fast / High Speed Sweeps
Optional faster sweep rate, ideal for electrochemists. Speeds up scan rates from the Gill ACs 25 mV/s to 1.2 V/s.
---
Critical Pitting Temperature
Our CPT technique is available with hardware heater interface or software interface to external heater / circulators such as those from Julabo, for precise temperature control and ASTM G150 compliance.