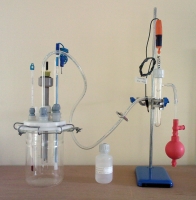 Here at ACM we are pleased to supply instruments for the measurement of electrochemical reactions. Electrochemist's tests have developed over many years, with many variations of pulsed and cyclic tests. Our background at ACM (which stands for Applied Corrosion Monitoring) is physics and corrosion science. We have learnt from our Electrochemist customers exactly what is required, and developed the tests to their requirements. The basis of all good electrochemical testing is a potentiostat, fast and stable with good screening. Armed with our extensive knowledge of potentiostat control we have been able to build electrochemical instruments to fit every requirement.
Standard DC tests, cycled, static and pulsed, both under potentiostatic and galvanostatic control are all available. AC impedance is included for any Electrochemist wishing to try this wonderful tool. The current capabilities (up to 10 Amps) of our instruments make them ideal for testing non aqueous electrolytes such as molten salts, where AC has proved to be a useful technique. It is ACM's flexibility in manufacturing that has won us many Electrochemical friends. If you need a bipotentiostat with three current to voltage converters for an exotic experiment we will build it to the same high standards as our standard products. For example, we constructed a scratch rig for a customer to study repassivation electrodics of a passive metal. Only ACM was able to do this at a reasonable price and we won the order.
Our standard products for Electrochemical Testing are as follows:
Here at ACM we don't just make clever computer controlled instruments. We make a full range of Manual Instruments such as our Research Potentiostat, our Sweep Generator and our Zero Resistance Ammeter. We also make Electrochemical Cell Kits and Test Electrodes. Since 1985 ACM has been offering a full service to Electrochemists round the world, all backed with our standard two year warranty.
See Application Notes for more information on AC Impedance, Cyclic Voltammetry, Current and Voltage Noise and LPR techniques plus many more.
See Downloads for instrumentation datasheets.
Recommended Instrumentation
To view our product range, click here