There are two readily available solutions, Bluetooth and Wi-Fi.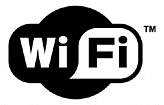 Wi-Fi - Many companies now already have a Wi-Fi system in place. With the ability to communicate across LAN and Internet as well, this offers huge possibilities in distributed systems. The only disadvantage to Wi-Fi is that you may need to involve your IT department.

Bluetooth - The most cost effective solution, offering a short range bridge between PC and instrument. Specifications boast an impressive 100m range, although this is line of sight. We have tried and tested this technology and found no problem walking around with a laptop, even from our cellar to first floor in an old stone building. Ideal if your lab is close to your office.
Bluetooth has other possibilities too, like collecting data from instruments in the field. The operator can simply stand near the instrument with a Bluetooth enabled PDA (or even smart phone) to collect the data. Java enabled phones can also be used to control our instruments via Bluetooth. A great idea for plant or pipeline monitoring.
If you have a requirement which you feel would benefit from wireless instrumentation, please feel free to phone or drop me an email. This technology can be easily added to existing ACM Instruments.